Events
Experience English/Eaquals Teacher Development Day at the Edinburgh Language Centre
November 26, 2016 @ 9:00 am

-

7:00 pm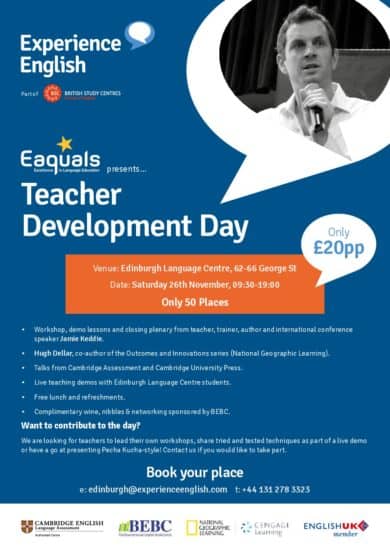 Join us for this exciting one-day teacher development event, organised by the Edinburgh Language Centre and supported by Eaquals. The event aims to offer professional and career development, information sharing and a networking opportunity for EFL professional at all levels, qualifications and experience
Keynote speakers
Jamie Keddie, teacher, trainer and international conference speaker.  Jamie is the founder of Lessonstream.org and author of Images (OUP 2009), "Bringing Online Video to the Classroom" (OUP 2014) and a new book, 'Videotelling', due later this year.
Hugh Dellar, co-author of the Outcomes and Innovations series will represent National Geographic Learning at the event.  Hugh has a wealth of experience within the industry and has given numerous talks and workshops at ELT conferences around the world.
In addition to industry-known speakers we are hoping to create a mini-conference with a difference by using some of our students to give you the opportunity to see Jamie teaching live demo lessons as well as getting your own hands dirty!
Become a speaker
We are looking for teachers who would like to contribute to the day with half hour talks/workshops. If you are interested in presenting at the event, please complete the speaker proposal form and return to Alex at alex.cann@experienceenglish.com or Angela at angela.signorastri@experienceenglish.com.
This event is sponsored primarily by Eaquals. We will also be supported by Cambridge Assessment and CUP who will be presenting sessions and showcasing their materials.  In addition to this, BEBC have kindly agreed to sponsor a small drinks reception after the event.
Thanks to sponsorship from Eaquals, we are able to offer you all of this for just £20pp.  Early booking is recommended as we only have 50 places.
Book your place today – contact us at Edinburgh@experienceenglish.com