Events
HI-Tech Lector
September 21, 2018 @ 8:00 am

-

September 22, 2018 @ 5:00 pm

LEKTOR HIGH-TECH
APPLICATIONS OF E-LEARNING AND NEW TECHNOLOGIES
IN FOREIGN LANGUAGE TEACHING
national conference for foreign language teachers and teacher trainers
under the patronage of the Rector of Lodz University of Technology
Professor Sławomir Wiak Ph.D., D.Sc. and Association of Academic Foreign Languages Centres SERMO
Łódź, 21-22 September 2018
TUL Language Centre and TUL e-Learning Centre
PURPOSE
The purpose of the conference is to present and exchange good practices in the area of applying e-learning and recent technologies in foreign language teaching, with consideration of 5 CEFR skills.
 How to use new technologies effectively in language teaching?
 How to use e-learning effectively?
 Why is it worth using new technologies in language teaching?
 How do new technologies influence the process of acquiring and retaining knowledge and skills?
TOPICS
 Using MOODLE in teaching process: advantages and areas to improve;
 Using multimedia in MOODLE;
 E-learning: effective teaching via the Internet, creating e-learning resources and interactive activities;
 Webinars as a modern method of conducting on-line classes;
 Working with films/videos as an element of curriculum;
 Interactive whiteboard as a tool for activating students;
 Improving the effectiveness of learning/teaching with the use of various on-line tools;
 Legal aspects of using free Internet tools in the teaching process.
FORMS OF CONFERENCE PARTICIPATION
 sample lessons (up to 45 minutes)
 presentations (approx. 20 minutes)
 workshops (approx. 20 minutes)
 exemplary e-learning course (up to 30 minutes)
 webinar (up to 30 minutes)
PARTICIPANTS
We welcome all foreign language teachers and teacher trainers working for higher education language centres, language schools, state schools. We hope you will be eager to share your experiences regarding the application of modern-day tools in the language teaching process.
DEADLINE FOR APPLICATIONS AND PRESENTATION PROPOSALS: 10 JUNE 2018
Speakers are kindly requested to send the title of their presentation, along with a short description and information about the preferred form of the presentation to the e-mail address below.
CONFERENCE FEE: PLN290 + PLN80 DINNER ON 21 SEPTEMBER (OPTIONAL)
Conference fee includes conference materials, coffee breaks and lunch on 21 September.
ORGANISING COMMITTEE:
dr Magdalena Nowacka – Head of TUL Language Centre
dr Rafał Grzybowski – Head of TUL e-Learning Centre
mgr Justyna Jaworska TUL LC
mgr Szymon Pędziwiatr TUL LC
mgr Barbara Rosicka-Koczur TUL LC
dr Anna Zarzycka TUL LC
Contact and presentation submissions: lektor.high-tech@info.p.lodz.pl
KEY SPEAKER
Making a Space that Fits for Technology in Education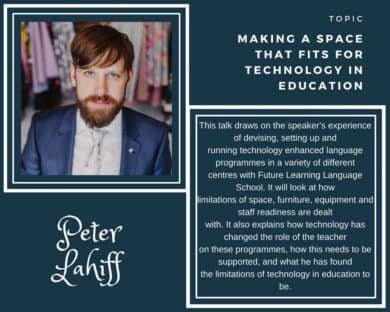 ---
Event Sponsors