Andy Hockley will be our guest speaker at the November 2016 Members Meeting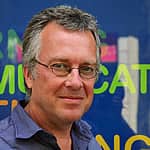 Andy Hockley is a freelance educational management consultant and teacher trainer based in deepest Transylvania. He has been training (both teachers and managers) for over 15 years and has been coordinating and training on the IDLTM (International Diploma in Language Teaching Management) since its inception in 2001. He is co-author of 'From Teacher to Manager' (CUP, 2008), 'Managing Education in the Digital Age' (The Round, 2014) and author of 'Educational Management' (Polirom, 2007). He is also the co-ordinator of IATEFL's Leadership and Management Special Interest Group (LAMSIG)
Plenary: Steps to being a more effective leader
Effective leadership is often discussed as the ideal that we should be striving for.  But what is leadership?  Can leadership be learned, or is it something that is innate?
This talk will illustrate the importance of both leadership and management in running the language teaching organisation. It will also show that leadership/management can be seen as a set of skills that can be learned and taught. We will discuss the skills that you can acquire and nurture to become a better leader and we will also look at a set of useful and effective steps that can be taken to enhance our leadership skills.
Half-day workshop: Managing Conflict
A recent survey of international businesses found that supervisors spend more than 25% of their time dealing with conflicts. It is clear that managing conflict is something we all have to deal with. However, conflict is not necessarily a bad thing.
In this half-day workshop we will discuss strategies and ideas for managing conflict, with input and focus on giving fair and necessary feedback; on active listening and conflict management; while at the same time sharing suggestions, anecdotes and learning from each others' experiences. The workshop will use a mixture of case studies, reflections on experience, input, discussion, and practical skills training.