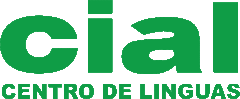 Contact
Alexandra Borges de Sousa (PLE) / Isabel Coimbra (FL)
Telephone Number
+351 217 940 448 / +351 213 533 733
Fax Number
+351 217 960 783 / +351 213 523 096
CIAL - Centro de Linguas
CIAL was founded in 1959 as a language school for the Portuguese public. On May 5, 1969 it was officially recognised by the Ministry of Education.
In 1972, CIAL started offering courses of Portuguese as a Foreign Language (PLE) aimed at international students.
As a result of this new activity, a new department, devoted to the production and publishing of books and other materials for the study of PLE, was created. The partnership with publishing house LIDEL continues to this day, and CIAL's teachers are authors of bestselling language teaching materials worldwide.
In 1989 CIAL opened a second school in Faro (Algarve), where both PLE and Foreign Languages are taught.
CIAL has participated in several EU projects over the years.
Languages & Courses
Languages Taught
Portuguese
English
French
Spanish
Types of Courses
General language
Professionals
Teachers
Locations
CIAL Portuguese Department
Rua Actor Taborda, 55-1º Esq. 1000-007 Lisbon
Portugal
R. Gen. Humberto Delgado 5, 8000-151 Faro
CIAL Foreign Languages Department
Av. da Republica, 14 2nd floor, 1050-191 Lisbon
Portugal
R. Gen. Humberto Delgado 5, 8000-151 Faro
CIAL Faro
Rua General Humberto Delgado, 5 8000-355 Faro
Portugal
Rua Actor Taborda, 55-1º Esq. 1000-007 Lisbon
Portugal
R. Gen. Humberto Delgado 5, 8000-151 Faro
Av. da Republica, 14 2nd floor, 1050-191 Lisbon
Portugal
R. Gen. Humberto Delgado 5, 8000-151 Faro
Rua General Humberto Delgado, 5 8000-355 Faro
Portugal