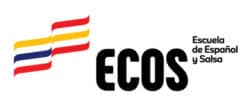 Contact
Diana Angarita Goenaga
Telephone Number
+573015059936
ECOS Escuela de Español
ECOS was created in 2016 from a Swiss-Colombian alliance to strengthen the expansion of the Spanish language in the world, in addition to allowing personal and professional growth.
At Ecos our team has spirit of commitment, leadership, confidence, responsibility, etc. and are always engage to the learning progress of our students and motivate them all the time to practice the language. We work constantly on the Excellence and with our continuous improvement plan.
The Spanish program at ECOS is oriented to the evident achievement of progress in each student according to the personal and professional challenges to access the language, developing the communicative competences of the language in contexts of real immersion.
Languages & Courses
Types of Courses
General language
Young learners
Professionals
Location
Manga Carrera 17 #16-05 Cartagena, Colombia, 130001
Manga Carrera 17 #16-05 Cartagena, Colombia, 130001
Manga Carrera 17 #16-05 Cartagena, Colombia, 130001