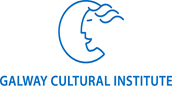 Telephone Number
+353 91 863100
Galway Cultural Institute
Founded in 1989, Galway Cultural Institute is located in Salthill in a contemporary and modern building. The location is stunning overlooking the Atlantic Ocean and just ten minutes' walk from the city centre. Our
spacious campus provides students with high quality technologically advanced teaching and learning facilities.
Galway is an attractive study destination because of its top quality educational institutions, its location on the Wild Atlantic Way on the west coast of Ireland, its warm welcome and its hospitality.
Its cultural heart, eco-friendly environment, enthusiasm for sports, as well as many festivals and events, attracts students, tourists and investment from all over the world.
Languages & Courses
Types of Courses
General language
Professionals
University preparation
Young learners
Examination preparation
Location
Galway Cultural Institute
Galway City
Ireland