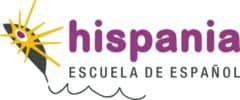 Telephone Number
+34 963510505
Hispania, escuela de español
Hispania, escuela de español opened its doors in 2002 with the idea of creating a philosophy of life through the teaching of Spanish language in which humanity, tolerance and positivity prevailed over other aspects.
Since then it has constantly been growing in number of students and popularity, now being the most popular school in Valencia.
Although we grew fast, we never lost our homely and warm atmosphere.
In Hispania, students will find a home where they can learn Spanish, learn about Spanish culture while making friends from around the world.
Languages & Courses
Types of Courses
Examination preparation
General language
Professionals
Teachers
University preparation
Location
Hispania, escuela de español
Carrer Bernat y Baldoví, 11
46010 Valencia
Spain