Eaquals Celebrates Successful Annual International Conference
Eaquals are celebrating the success of the 27th International Conference, after welcoming a record number of participants to the event, which this year was held in Prague from 26 – 28 April.
Official conference photos have are featured on the Eaquals facebook page and the conference has been covered in industry magazines, including The PIE, StudyTravel and Schools & Agents.
The conference was officially opened by Eaquals Chair, Justin Quinn, who welcomed new members to the organisation and reflected on a year of growth, followed by an opening address by Professor Hana Machkova, Rector of the University of Economics, Prague.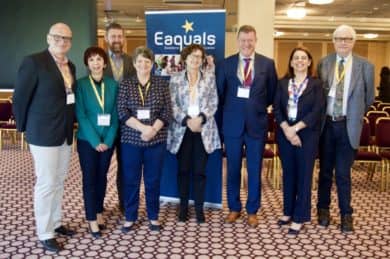 It was announced during the conference AGM that Eaquals will launch a scholarship award scheme, which will enable Eaquals-accredited institutions disadvantaged by challenging business environments, unfavourable exchange rates and local political issues, to benefit from funding to attend Eaquals conference.
Eaquals recently introduced the Teacher Award Scheme in recognition of the hard work and dedication required to be an outstanding teacher. The main aim of the scheme is to promote and disseminate good practices in language teaching, to foster a culture of sharing and to appreciate those dedicated to the language teaching profession. This year's winner, Lilian Borboudaki, teacher at Doukas School, formally accepted her award at the conference, thanking her family, colleagues and students for their support and inspiration.
Three days of innovative presentations, workshops and discussions included a full day Management Training Workshop, delivered by Fiona Dunlop. The 'Managing to Succeed' sessions were highly interactive, with Dunlop encouraging participants to reflect on their own experiences throughout the day. Their appreciation was shown with a rapturous round of applause at the end of a engaging and informative day.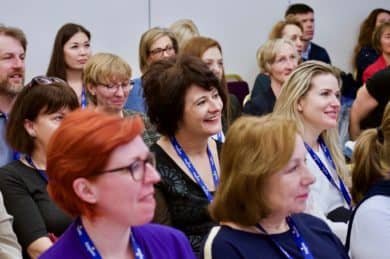 During the opening plenary, Sarah Mercer presented 'Putting teachers first: Focus on Teacher Wellbeing'. The subject was well-received by attendees, with many taking to twitter to express their thoughts using the official conference hashtag #eaquals18prague. Dr. Yseult Freeney closed the first day with her plenary 'High Performance Leadership', reflecting on organisational culture and inviting participants to reflect on their vision of leadership. Closing the three-day event was Silvana Richardson, with her plenary 'Impactful professional learning for teachers – from input to evaluation'. The session provided valuable information and useful CPD structures to the audience of language teaching professionals.
The conference gala dinner took place in the centre of Prague's famous Wenceslas Square, an ideal location for an evening of delicious food and dancing. The opening was delivered by Mike Mayor, Director of the Global Scale of English with Pearson. Participants were then honoured to be addressed by Dr Pavel Dolecek, Deputy Minister for Research and Higher Education in the Czech Republic, who attended with Czech school CA Language Institute.
Reflecting on the event, Lou McLaughlin, Executive Director of Eaquals said: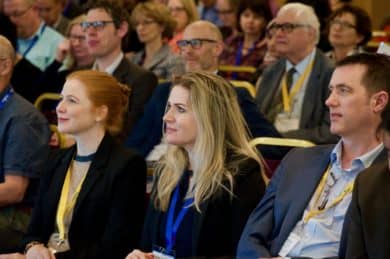 "The Eaquals Annual Conference goes from strength to strength, growing in terms of number of attendees and continuously developing in terms of quality. It is a unique experience bringing those in the profession together to share their expertise in management, teaching, learning, assessment and marketing with Eaquals as their platform".
The next Eaquals annual international conference will be held in Madrid, 11 – 13 April 2019.