Language support for adult refugees – Report by Richard Rossner
'Fantastic event organised by Learning Unlimited on a new toolkit aimed at volunteers supporting newly arrived people'. 
On Wednesday 2nd May 2018 we ran a dissemination event on the Council of Europe's new online toolkit LANGUAGE SUPPORT FOR ADULT REFUGEES. This free event at Europe House, run in partnership with the Council of Europe and with support from the European Commission, was very well attended despite the monsoon-like rain earlier that afternoon! It was rewarding to see so many people from such a wide range of settings and different parts of the country, representing volunteers, conversation club and volunteer organisers, voluntary and community-based organisations, universities, Local Authorities and more.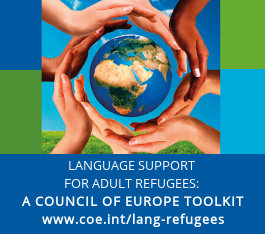 There was a lot of interest in finding out about and discussing this valuable new resource, which is free to download and available in seven languages:  https://www.coe.int/en/web/language-support-for-adult-refugees.  It was also a great opportunity to hear directly from Richard Rossner, a member of the Council of Europe's LIAM (Linguistic Integration of Adult Migrants) co-ordinating group. Richard gave a very interesting background and introduction to the online toolkit as well as clarifying the difference between multilingualism and plurilingualism!
There was very positive feedback about the toolkit, its comprehensive content and clear layout, and the fact that as well as PDFs there are authorable word versions of each tool.  Colleagues shared ideas about how the resources could be adapted and supplemented, for example, in relation to new criteria for data collection in relation to General Data Protection Regulations in the UK, dealing with emotional triggers, and other factors affecting the lives of refugees. They also underlined the importance of providing volunteers, where possible, with a guided introduction to the toolkit and opportunities to familiarise themselves with the content and approaches.
For more information about LIAM, please see https://www.coe.int/en/web/lang-migrants