Eaquals member Malaca Instituto wins international prize
On the evening of 7 September, at the prestigious "8 Northumberland Avenue" venue in London's West End, Malaca Instituto won the latest in its impressive list of international education awards. With 4 organisations, from different parts of the world, nominated for Language Educator of the Year, a prestigious international jury comprising well known directors, academics and some students (the "end user") decided in favour of Malaca Instituto.

The Pie Magazine has established itself over the years as one of the leading publications in the field of Study Abroad and, in more recent years, has launched the PIEoneer awards "to recognise both individuals and organisations who are pushing professional standards, evolving their engagement or redefining the international student experience".
On receiving the prize, Malaca Instituto's Director of Studies, Inma Molina, said: "this prize is for everyone at Malaca Instituto and will motivate us even more to provide the best services in everything we do."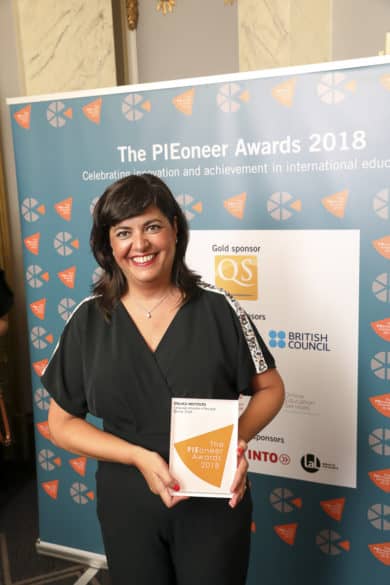 Dedicated to teaching Spanish since 1971, long-standing EAQUALS member, Malaca Instituto, has accumulated an impressive list of awards and accreditations:
• Study Travel SuperStar: since 2013, the only school of Spanish in the world to have achieved this prestigious status by winning the Star Award for School of Spanish worldwide 5 times! Only 10 other language schools of any kind in the world have become Super Stars.
• EAQUALS accreditation: in 1993, Malaca Instituto was the first language school, after the founding members, to be admitted to EAQUALS after a rigorous inspection process, which has been repeated successfully in the intervening years.
• IALC membership: Malaca Instituto is one of the longest standing members of this prestigious, worldwide organisation, reputed to be the leading international association of independent language schools in the world.
• Instituto Cervantes accreditation: as a quality School of Spanish, accreditation by the IC, has become an essential part of our corporate identity.
The city of Malaga, where Malaca Instituto is based, has become one of the leading Spanish destinations for students wanting to study Spanish and Malaca Instituto is clearly in the vanguard of this achievement, helping in bringing the Alphe Workshop to Malaga and a key player in initiating the Malaga Education Week.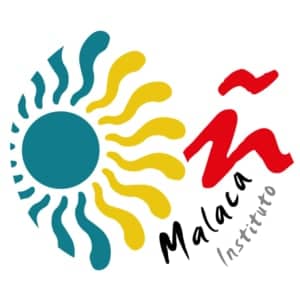 On hearing of the original short-listing, Ida Willadsen, founder and general manager of Malaca Instituto had commented: "once again this is a tremendous boost to everyone working at Malaca Instituto, many of whom have spent most of their professional lives here. To be short-listed is great, to win would be even better – we all have our fingers crossed". Now it's a case of clapping hands!
Malaga city is not only one of the leading destinations for studying Spanish in the world but it can also boast one of the world's leading language schools. Malaca Instituto – much more than just a language school.