New members, Threshold Associates: member view of the Eaquals inspection process
"The pre-inspection as well as inspection was a great experience for us, it provided feedback and confirmation of our strenght and areas we can be proud of as well as inspiration for further development."
After 23 years of being on Czech language school market and 16 years of being part of the Czech language school association, we were looking for new ways to improve our services. Since we participated in several of the Eaquals events, which enabled us to see what the organizations does, the Eaquals certification became our next goal.
In the fall of 2017 we underwent the self-assessment evaluation, which helped us to see our school and its processes in the big picture, it also gave us hints about some areas of improvement. Based on the self-assessment result we had several Skype calls with Ludka, who not only gave us feedback and tips about how to develop the areas of improvement, but also explained the inspection process in great detail to us. In April 2018 we had the pre-inspection visit, which helped us to prepare an action plan to further focus on our areas of improvement. We worked very hard from April until late Novemeber 2018, when the inspection took place.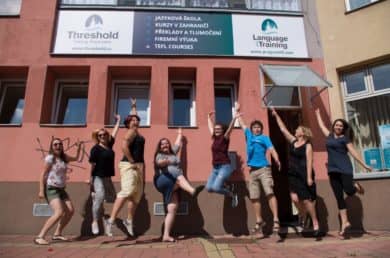 The pre-inspection as well as inspection was a great experience for us, it provided feedback and confirmation of our strengths and areas we can be proud of as well as inspiration for further development. We very much value Sara Atkinson´s expertise and human approach during pre-inspection as well as the inspection. The second inspector Ela Jaroz was also great help, especially in the area of academic issues and provided a lot of ideas about how we can improve our current documents.
We are excited to become an Eaquals accredited centre and we are looking forward to further improving our school´s services based on the inspection suggestions. Moreover, we look forward to participating in Eaquals events, which provide a lot of inspiration, new ideas as well as options for personal development. We also hope that we will become more attractive for new and existing teachers, TEFL applicants and especially companies, who are still our core business.
Jana Pírková
Director of Studies & Deputy Director
Threshold Training Associates