Creating a Good Practices Manual – George Drivas, Department of Foreign Languages, Doukas School
Creating a Good Practices Manual
April 2019 marked the date when the Eaquals mid-term assessment report was due. The Department of foreign languages – Doukas School has been a member of Eaquals since 2005. The school has been in operation continuously since 1917. One of the main characteristics is the very low turn over of teachers. The majority of FL Teachers have been with the school for close to 25 years. Keeping them active and engaged as well as abreast of developments in the field is no small task. CPD plays a vital role. Our teachers are assessed on an annual basis and each year we try to decide on an overall theme/focus for this exercise. In addition, FL staff members actively participate in the school "INNOVATION & GOOD PRACTICES" Days organised 4 times a year where teachers od all subjects present classroom activities that make a difference and have an added value for themselves, students and the school in general.
During the 2017 Eaquals re-inspection it was suggested that we proceed with the creation of an academic manual for the department. After thinking long and hard we decided to proceed with the creation of a "Good Practices Manual" instead. The manual is entitled "TEACHER'S HEALTH" and has six sections:
PLANNING THE SCHOOL YEAR
PLANNING A LESSON
THE ROLE OF THE TEACHER
THE ROLE OF THE STUDENT
CONTINUOUS PROFESSIONAL DEVELOPMENT
REPRINTS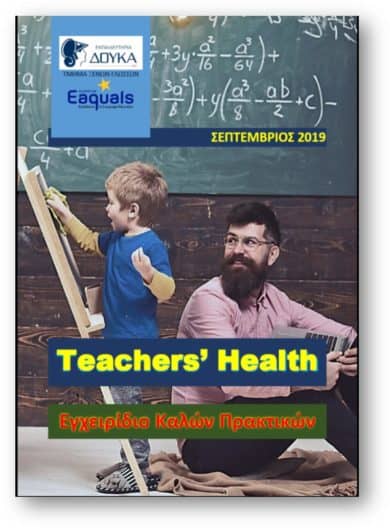 Most of the content was written in English, with teachers of French and German contributing in Greek.
It was presented to the different language teacher groups in March 2019. Their mission would be to discuss the proposed structure of the manual and decide one area where each teacher would like to contribute. Each contribution would consist of an A4 page article with half a page dedicated to a description of the aims of the activity and a brief discussion of relevant theoretical issues and half a page detailing the steps required to adopt and adapt this activity for the reader's class. The only exception to this rule were articles that teachers had submitted to other publications in the last couple of years which would be reprinted in their original form in the manual. The deadline was eight weeks, until mid-May 2019. In total, 22 original contributions were collected which, along with the 13 reprints from different publications, were compiled into a 92-page manual. Our intention is to enrich this manual in the following year 2019-2020 focusing on areas that were not very "popular" or need greater attention depending the school's and the department goals for the next academic year.
This exercise provided the director and the language coordinators with the opportunity to check and verify our teachers':
commitment to professional development through research, experimentation and innovation
ability to plan and manage lessons and courses
understanding of language learners needs and profiles
ability to manage a variety of lessons both in terms of subject matter as well as in terms of opportunities afforded by technology
ability to manage resources and to assess learning
ability to take ownership of and responsibility for professional development
ability to use innovative and motivating practices
ability to promote 21st century skills
commitment to sharing educational policies and practices within the department and across sections of the school
In addition, the DOS had personally the opportunity to check our teachers' commitment to deadlines, personal interests, level of communication and management of complex ideas especially within the SEEK/SENSE/SHARE FRAMEWORK: Jarche H., (2014).
Furthermore, our teachers were able to demonstrate their commitment to the four stages of CPD outlined in the British Council CPD framework   https://www.britishcouncil.in/sites/default/files/cpd_framework_for_teachers.pdf):
Awareness of what is involved in continuous professional development after serving for a (very) long time in an organization and a department and the reasons it is significant for the individual as well as the group.
 Understanding what continuous professional development suggests and why it is important at a personal and a professional level.
Engagement with personal, team and organizational goals and development that extends beyond daily duties as well as the wish to accomplish it.
Integration of professional ability and daily performance in ways that is demonstrated to all internal and external stakeholders.
The manual is up for revision in the spring of 2020.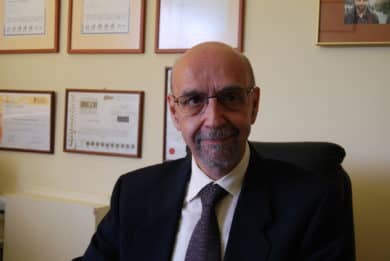 George Drivas is no stranger to Foreign Language education, having spent 36 years as a teacher, teacher trainer, author and presenter both at a local and international levels. He has been the Director of Studies at Doukas School Department of Foreign Languages since 1994.
His most recent publications include:
Education, Learning, Training in a Digital Society, G. Drivas, Express Publishing, 2011
Presentation Skills Practice Book, George Drivas, Chryssanthe Sottiriou, Express Publishing, 2014
The Sky Is the Limit!, George Drivas, Chryssanthe Sotiriou, Helen Bonanou, Sofia Saliari, Michelle Balafouti, Helen Tsevi, Handbook of Research on Educational Design and Cloud Computing in Modern Classroom Settings, (pages 101-121), IGI Global, 2018
George Drivas is also the creator of AllThingsPresentations.com website and Facebook page which are frequently visited by people interested in presentation and communication skills.