IHWO launches new service for teachers

International House World Organisation has launched a new service for users to book initial teacher training and professional development courses – as well as find a job – at International House schools around the world.
Unveiled in January 2020, IH Teach English is for every step of a person's teaching career; from first entering the world of TEFL and becoming a professionally qualified teacher, to finding a job and continuing to progress in their teaching career.
IH Teach English was created to support IH members and to reinforce the message that teacher training is a fundamental part of International House. In 1962, IH founders John and Brita Haycraft developed the IH Certificate in Teaching English, a course that was highly practical and focused on communication. This ground-breaking course became a standard for language teachers and formed the basis of what is now the CELTA, the world-renowned qualification certified by Cambridge Assessment English.
Users who need an initial teaching qualification can search through the many CELTA courses offered by IH schools. The unique aspect of IH Teach English is that future trainees will find all the information they need in one platform without having to search the information in individual sites. They can easily compare types of courses, destinations, and prices.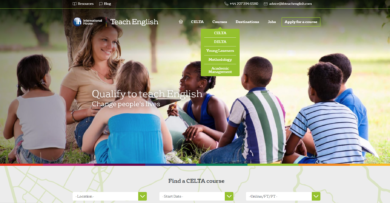 There are explicit benefits to booking a course through IH Teach English, including a free grammar course, guide to teaching practice, discount on books, self-study guides, your own phonemic chart, discount on One-Stop English, teaching resources, and CV and careers advice.
Currently, 37 International House schools are signed up to offer their courses through IH Teach English. The schools are based around the world in 18 countries: Australia, China, Colombia, Croatia, Czech Republic, France, Hungary, Ireland, Italy, Mexico, Poland, Portugal, Serbia, Spain, Thailand, Ukraine, United Kingdom and Vietnam.
As well as CELTA, the website has professional development courses, online or face-to-face, for those who want to expand their skills by specialising in teaching Young Learners, Academic Management, or Business English, for example. There is also the DELTA diploma course with advanced theory and practice to help teachers develop in their career.
CELTA trainees can benefit from the wealth of knowledge that International House has to offer. The website has numerous blogs written by expert EFL teachers about how to make the most of the course, what to expect from TEFL life in numerous countries, and other general advice, like how important it is to have comfy shoes and how to develop empathy with students.
Teachers who are both newly qualified and experienced will be able to find many teaching resources, including worksheets and short activities, tips and ideas, games to play, and full lesson plans. This bank of resources has been created by IH teachers and teacher trainers and can be easily accessed by anyone who is looking for an activity which has been tested and is ready to be used.
"Teacher training has always been at the core of what we do, and this website was designed to reflect this. We have a fantastic network of teachers around the world who have a wealth of experience living with a TEFL career, so there are contributions on this site about what it's like to work in different destinations, how to approach the classroom, and advice on how to progress your career." – Beccy Wigglesworth, Director Member Services and Client Experience at IHWO.
"Our mission is to help teachers at every step of their career feel part of a much bigger community which IH stands for. A teacher who feels supported will glow and this transforms in having great lessons and very happy students. Happy teachers = Happy students!" – Giuliana Faldetta, Brand Engagement and Marketing Coordinator at IHWO.