Eaquals Teacher Award 2022
Eaquals Teacher Award 2022 | Interview with award recipient, Dalia Fakesh Eaquals: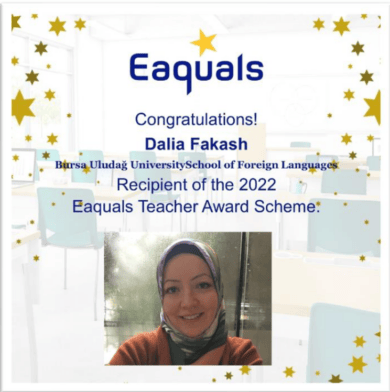 Eaquals: Dalia, congratulations on your recent award! How did you feel when you found out you were the recipient of the 2022 Eaquals Teacher Award Scheme?
DF: First of all, thank you for you commitment to support the teaching profession and honour teachers worldwide. Teaching is a profession of giving; therefore, we may not focus on demanding appreciation. However, it feels great when we do feel appreciated and recognized. It reignites our enthusiasm as teachers/warriors and that's exactly how I felt upon hearing the news. I was actually among my students when I got the news so sharing it with them first-hand fulfilled and complemented the essence of the award.
Eaquals: Your colleagues must be thrilled for you. Is there anything that you and your colleagues appreciate most about working for an Eaquals accredited centre?
We have recently received the long-awaited accreditation from Eaquals so we are all still intoxicated by the pleasure of achieving such a prestigious accomplishment. Such a comprehensive scheme of development and advancement can not be summarized in a simple answer; however, I could say that the unbreakable cycle of reflection and evaluation which is promoted and implemented by all Eaquals-accredited organizations is what distinguishes us as constantly thriving language learning institutions. While most language teaching organizations claim to have high standards, yet being officially accredited and acclaimed to have met and implemented Eaquals standards of excellency is inspiring for both professionals and students.
Eaquals: Could you tell us a little about your teaching career? When and how did you start teaching and how long have you been with your institution?
I have been an English Language instructor at Bursa Uludag University SFL since 2018. Before that I filled several teaching and coordination positions in Turkey, Syria and the USA where I got my MA and worked as an ESL and Special education teacher. Although I've been teaching since 2004, yet I still consider myself "a teacher-in-process'' which explains my insatiable thirst to learning and developing. I'm a holder of a BA in English Literature, an MA in Education, TESOL, CELTA and I'm currently finishing up my DELTA which as I hope will help further refine my skills as a teacher and a teacher trainer.
Eaquals: Receiving the award is a fantastic acknowledgement of your exceptional teaching. What advice would you give to new teachers or those considering a career in language teaching, who may be inspired by the Eaquals Teacher Award Scheme?
As proven recently, our world has become increasingly unstable and full of uncertainties. Therefore, it is time we broadened our vision of the teaching profession in the sense that not only are we language teachers, but we are rather ambassadors of better and healthier communication routes among nations and generations. This poses immense responsibility toward ourselves as we need to care more about our well-being and nurture our skills. We also owe it to our students to reach out to them, and to break the traditional moulds of teaching which fall short for the needs of the future. Therefore, adapting the concept of "learning professionals" is a must.