The 2023 winner of the Eaquals Teacher Award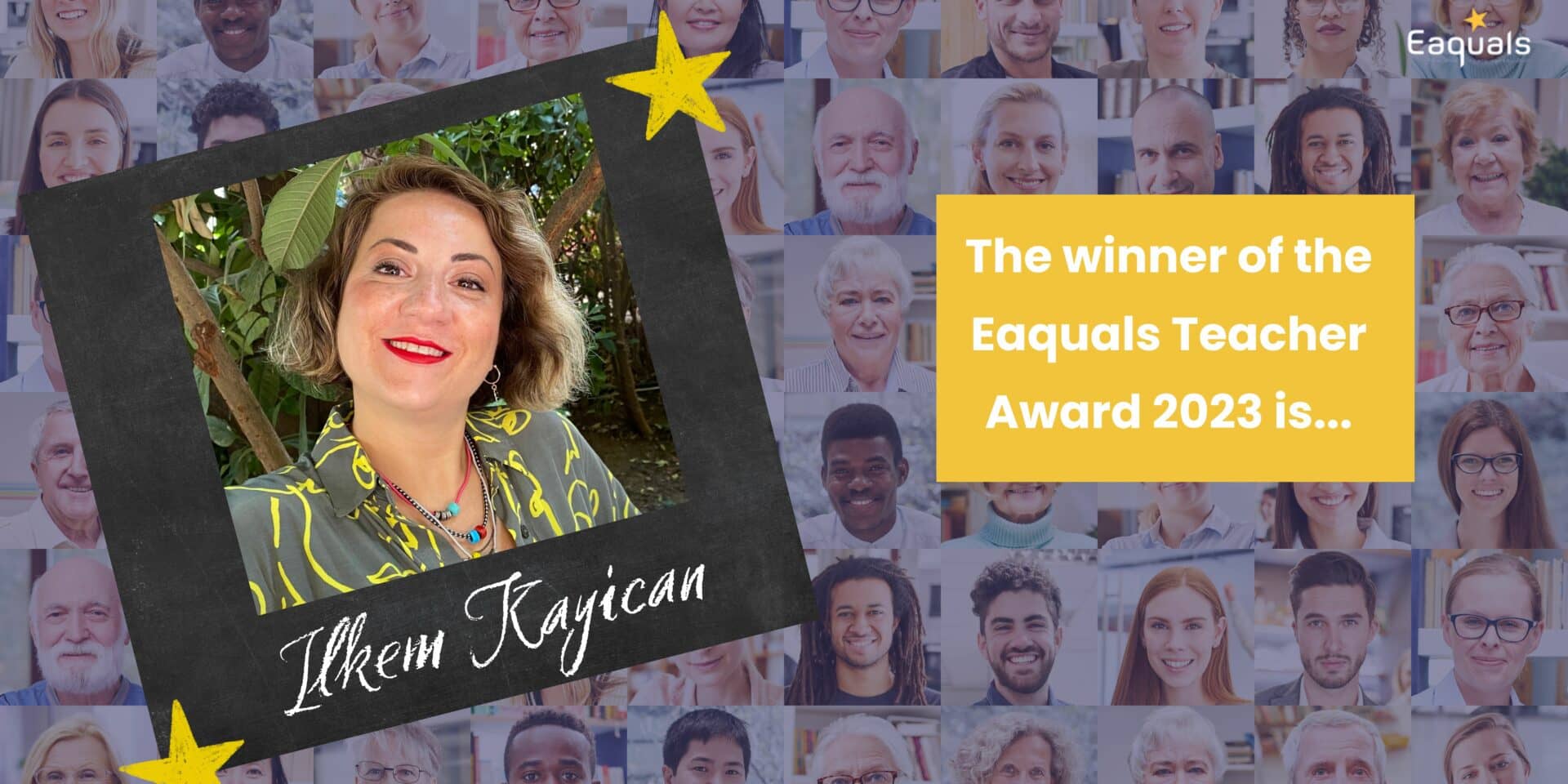 THE 2023 WINNER OF THE EAQUALS TEACHER AWARD
Eaquals recognises the hard work and dedication required to be an outstanding teacher. The Eaquals Teacher Award was created to honour exceptional language teachers and we are proud to announce this year's winner Ilkem Kayican. Here's our interview with her!
How did you feel when you found out you were the winner of the Eaquals Teacher Award 2023?
First of all, I should state that as a country, we are deeply saddened by the devastating earthquakes that affected a very large area in South-East of Turkey, although it has been a month and a half both the physical and psychological effects continue. So, I should say that I got this amazing news under these conditions, and it was such a great moment for me, I couldn't believe my eyes. I was so thrilled, incredibly excited and proud! I wanted to call everyone that I love and share it at that moment, but I was in a bus with many other people; however, I immediately called our school director, Jacqueline Einer. I think I looked for a way to make it more believable by sharing it with someone who knows how important it is. She was also very nice and supportive when she heard about it.
Could you tell us about your teaching career and how long you have been doing it for? What does it mean for you to work at an Eaquals accredited school?
I have been teaching English as a foreign language for 15 years and although I have had different roles such as coordinating or designing courses, I do not remember a semester when I stopped teaching. I love it so much because sharing what I know with my students and helping them explore and improve their skills are so meaningful to me! The context might change but I can't think of a career outside education. I am so lucky because this is not the first time, I have worked in an Eaquals accredited school, so I know how much they care about the high standards and excellence in language teaching. This matches my own principles in professional development. Working in an Eaquals accredited school also offers a safe environment to the learners where each of them can access the same quality education in language learning, My colleagues and myself, work very hard to protect this excellence, which enables our school to be one of the best among many in Turkey. I would also like to add, as I stated in my application, that there is a very important difference between perfection and excellence. I am very glad that Eaquals as an association is also aware of this, proven by its "Framework For Language Teacher Training And Development". This framework sets realistic and achievable goals for the teachers who want to improve themselves towards a proper and ethical direction.
What led you to a career in teaching? Can you pinpoint the moment you knew teaching was what you wanted to pursue?
Although I worked in a different sector for a short time, to make ends meet just after college, I had always dreamt of teaching at a university because I was always very excited to learn about the subjects that I was interested in and share them, too. My major was English language and literature, so I started sharing what I knew with others and they liked it, too : )! I started working in a language school in my hometown and right from the get go, my students and I were both enjoying it. It was mutual happiness and fulfillment! I realized that I wanted to keep doing this because those people were learning and appreciated my help. I wanted to keep improving.
Is there someone who inspires you? What advice would you give new teachers or those aspiring for a career in teaching?
I remember there were two female English teachers that I admired so much when I was in middle school. I was mesmerized by their presence, pronunciation, teaching methods and discipline. People who work hard, who do their job ethically and for the sake of the good in society, always inspire me. However, I do believe that when working hard or devoting yourself to your job, it is also very important to realise when you need a break or to step down. My generation was constantly told to work hard and consistently because it was the sure way to success. Nonetheless, I think that devoting quality time to your job, planning well, having good time management and a work-life balance are the keys to be successful. My first humble suggestion to my colleagues who are new to the profession, is to select their workplaces with great care. I believe that most of the people who decide to pursue a career in teaching are life-long learners and they do this job because they love doing it, therefore they should work in environments that offer them opportunities to grow and develop their skills, without stress. I know some feedback might hurt in the beginning, but in time, a good teacher uses that feedback towards their own career development. There is no career without failure, they should embrace their weak moments, give themselves time, and keep going! This is what I have tried to do in the past 15 years.
Where do you see yourself in 10 years' time?
This is not an easy one because the first thing that comes to my mind is the fact that I will be 10 years older but, thank you for the question because it made me think about my plans and dreams "seriously". I have recently received a professional coaching training from International Coaching Federation (ICF) which helped me develop my skills further and strengthen my background in professional development and teacher training. This means I still see myself teaching and sharing knowledge in 10 years time, but aside from doing it at a university, I would like to explore new avenues, for example within international education companies. I also have specific training modules that I developed including "critical digital literacy", "building rapport with students for academic integrity" and I am currently working on another one about AI and academic writing. I want these modules to be more accessible to a wider audience and professionals in the field.
We are very happy for Ilkem and we wish her all the very best in her future endeavours!