Eaquals Member Event Fund: The Bridge Teachers' Day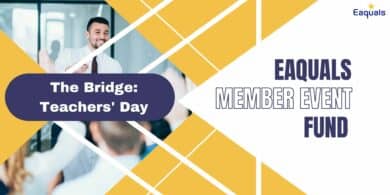 The Bridge: Teachers' Day
Local 1-day conference Teachers´ Day took place in Bratislava, Slovakia and was dedicated to promoting teaching as a rewarding profession. The conference had 105 attendees, mostly coming from Slovakia, but there were attendees from Romania, Bulgaria, Hungary, Greece, Czech Republic and Ukraine as well. Majority of the attendees were English teachers from language schools, universities, elementary and secondary schools. We have also had 5 exhibitors from Cambridge, Pearson, Macmillan, Raabe and Sharing one Language – teacher training centres.
The program was composed of 16 workshops in 4 time slots conducted by teachers from the school, including both experienced and novice presenters, as well as professionals from the administrative staff. After the workshops concluded, everyone gathered for a networking and contact-building event to promote even more collaborations and the exchange of successful practices in evening raut.
The themes of the workshops reflected current trends in teaching and delivered hands-on activities, thoughtful insights and promoted interactivity and personal approach in the classes. Topics such as creative writing, teaching slang words from social media, listening and team building games, basic coaching principles in teaching or the advantages of not always knowing everything were presented. Participants also learned how to ace online job interviews and reap the benefits from participation in Erasmus+ projects.
Our aim was also to create a series of videos, that would feature teachers attending the conference, sharing own views of their profession and their pride in it and that would be used in social media campaigns. The filming took place during the entire conference at a dedicated place.
We believe that our expectations of all the outcomes were more than fulfilled and that participants left the conference with better understanding of how to practically apply various teaching practices in the classroom and with a renewed passion for teaching that can help them better engage their students.