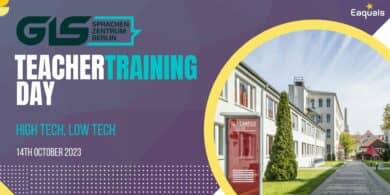 GLS Teacher Training Day
Eaquals accredited member, GLS Sprachenzentrum (IH Berlin) is delighted to announce its annual Teacher Training Day on Saturday 14th October 2023. The bilingual event is taking place on the school campus in Prenzlauerberg and is generously supported by the Eaquals member event fund as well as 4 major publishers.
Most workshops are suitable for teachers of all languages and the theme is "High tech, Low tech". Workshops will range from ones on Chat GTP and Virtual Reality to those focusing on dictations and lessons with minimal resources. The opening plenary, which will be held in English, is with the award-winning Educational Technologist, Russell Stannard, who will be exploring the emerging AI (artificial intelligence) tools for teachers. This will be followed by a choice of different workshops (in English or in German) with teacher trainers from the GLS Team alongside presenters sponsored by Cornelsen, Hueber (Macmillan), Klett (Cambridge University Press) and Pearson. The publishers' reps will also be present with stands providing ample opportunities to browse through the latest course books and publications.
A catered lunch and refreshments will be provided, and participants are invited to round off the day with a glass of wine to celebrate the 40th anniversary of GLS Sprachenzentrum and 70 years of International House.
Click here for the full programme or click the button below to register. The participation fee for external guests is €69.00 including catering.