Emotional Intelligence and Digitalisation in Language Teaching & Learning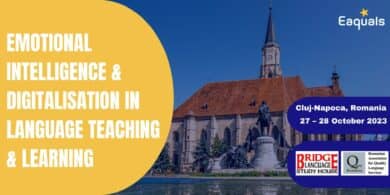 Emotional Intelligence & Digitalisation in Language Teaching & Learning
Eaquals Associate member QUEST – The Romanian Association for Quality Language Services, together with Bridge Language Study House Association are organising an international conference about 'Emotional Intelligence and Digitalisation in Language Teaching and Learning' from 27th to 28th October 2023 in Cluj-Napoca, Romania.
The event is being supported by Eaquals through the Eaquals Member Event Fund and the topics include the following:
The innovative dimension of education, innovative language teaching tools,
methods and techniques;
Integrating emotional intelligence in language teaching and learning and promoting
well-being in education;
Promoting the exchange of best practices and know-how & strengthening the networks of language providers and experts.
The keynote speaker is Marija Pejatovic, from the Association of Language Schools of Serbia, also an Eaquals Associate Member.
Schedule:
For more details contact Gaspar Eniko on eniko@blsh.ro