New Eaquals Accredited Member: Filos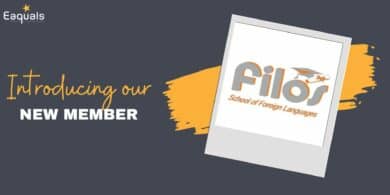 New Eaquals Accredited Member: Filos
Eaquals is delighted to welcome Filos School of Foreign Languages to its ever-growing family.
Filos LLC has been established since 1995 and has been growing since, making it one of the largest language centres in the Republic of North Macedonia. It is currently the only Eaquals accredited member from this area.
The school offers a variety of courses for students of all ages in different languages including English, German, French, Italian, Spanish, Albanian and Macedonian, as well as exam preparation courses for Cambridge, IELTS and TOEFL exams. Students can attend their courses either in person, online or a mix of both.
The highly skilled staff and the high level of quality are synonymous with the name of the school, but at Filos, they are always looking for new ways to improve and develop further to make sure that the services they offer are nothing short of excellent. Their goal is to provide a professional approach and a pleasant and positive atmosphere where students engage in authentic class activities.
When asked why they decided to opt for an Eaquals accreditation, staff members at Filos said that "Eaquals is one of the most prestigious and widely recognized bodies within the language industry. They encourage personal and professional development and have very strong educational values which will have a positive impact on the future of our school."