Eaquals Grant Scheme – Into the Wild (of EFL)
As part of the Eaquals Grant Scheme, we were pleased to award Ollie Wood, Academic Manager at The London School, support for his presentation at the Innovate ELT Conference 2017: Power to the Learner.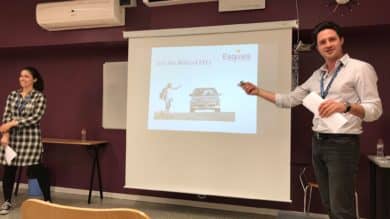 Ollie's talk 'Into the Wild (of EFL)' centred on the topic of making the transition from being an English language learner to being an English language teacher. As the theme of the conference was about giving "power to the learner", Ollie presented with one of his learners: initially as an ELL and then an ELT trainee. He presented the theory and his student followed this up with her experience.
The talk examined six different areas: Learners Autonomy; Learner Preferences; Repetition' Learner-Teacher Equality; L1 v L2; and NNEST v NEST. These were chosen as they had been identified by Ollie as areas that gave his learners the most power: be it as language learners or language teachers.
The talk was well-attended with several publishers and exam board representatives present. Feedback has been unanimously positive and many attendees have contacted Ollie to ask follow-up questions and say how much they enjoyed the presentation.
Click here to view Ollie's presentation.
---
If you are a staff member at an Eaquals-accredited centre and are planning to be a speaker/workshop leader at a national or international conference before 31 July 2017, you may be eligible to apply for a grant of EUR175 towards the cost of speaking.
To qualify for a grant, you must be willing to include the Eaquals logo on your presentation materials (or use the official Eaquals presentation slides); to make it clear to your audience that you represent Eaquals as well as your own institution; to refer to your Eaquals affiliation in your bio details in the conference programme; and to submit a short report (maximum 200 words) after the event for circulation to all our members.
Eaquals will only consider applications from employees of Eaquals Accredited Members. Events must be open to the public, and operate at national or international level. Events organised by Eaquals Associate Members can qualify, if they meet these criteria.
To apply for a grant, you should write to Lou McLaughlin director@eaquals.org and include:
Brief details of the conference – dates, venue, website link
Brief details of your session – title, target audience
Official confirmation that your session has been accepted by the conference organisers (This may be supplied later, if not available at the time of the application.)
A copy of your proposal